My baby got sick and he needed some major snuggling and cuddling. Although I am not glad he was sick, I am VERY glad that I was able to nuzzle up with my baby for memories like these.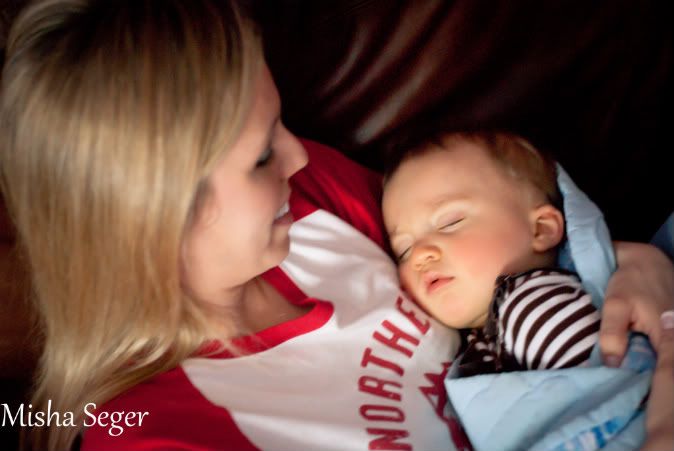 I just love this little babe, plain and simple, and could spend a million years doing just that.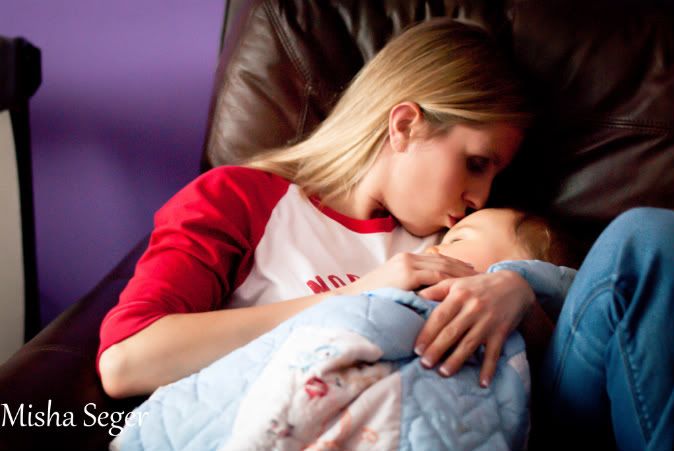 Sometimes I wonder what it would be like to have my "freedom" back.. i.e. to sleep however long I wanted, to go anywhere I wanted - whenever I wanted to. To not have lost my figure for 9 months and then spend another 7 trying to fit back in to my clothes...
Thankfully this little face...
and the truth of God's word are helping me with something... Covetousness.
Ever heard of it? You know its definition is this:
jealously
eager
for
the
possession
of
something
. Yeah, I know - yuck. But it is real, and maybe more real for you as well, when you think about it. That was certainly the case for me on Sunday when one of our pastors spoke on the Rich Fool from Luke 12:13-21. The sermon series is on Generous Living, which totally excites me.. and for that reason I was not expecting to be shaken so hard. For the most part (although I will always need growth here) I love to give... I love to hand stuff over. But what is so great about the parables Jesus tells, is that they have SO many layers, and they expose you. See, this text reads of a man attached to his possessions but even more so the heart of covetousness that it stems from that can show up in every dimension of our lives. I am so thankful for the things God exposed to me through our pastor's message.. so please give me no credit for this stuff (if you would even think of doing such a crazy thing, hehe) -instead, hear it all for yourself
HERE
.
Allow me to share how I was helped:
For me, covetousness can show up in sporadic times of laziness or selfishness. Sometimes I just wanna be able to sleep whenever I want... take a nap, read a book, go shopping, go to the gym and not have to plan the care for my babe. Sometimes I just don't want to serve my baby..
I know, right? He is so cute. How could I be like that? Well....ugh.. its because I gotta sin issue and although I would not like to be forever remembered a long side the Rich Fool - on Sunday I was seeing myself in the text..
How could I refer to it as "my freedom," "my figure," "my time"?? The use of "my" is exposing the truth of the matter.... when I am coveting time, I am believing that time belongs to me in the first place. When I am coveting freedom, I am believing that freedom is what makes me happy. When I am coveting my old bikini body, then its my figure that I am living for.
God:
"MISHA! Store up treasures in heaven!"
Thank God for the gift of my baby, that through this season of life the Lord has not allowed me to stay peacefully soaking in the trash of such covetousness,
comfortably
, any longer!
Do I like talking about this? No. Do I like spelling out in black and white that I have found myself "living for" my figure? Um, noooooo. I hate saying that I covet sleep and sometimes wish I could run away from responsibility for a few hours, just to serve my selfishness. It is disgusting. Embarrassing. That is what sin is: gross. So why do I share? Because having a blog is not for being perfect. Because being a Christian is not for the perfect. It is to be transform
by
The Perfect: Christ. He owns my time, my freedom, my figure.
As Tab helpfully phrased,
"All you have is His, by creation and redemption: purchased by his blood. He owns you and your stuff."
Listen to the message
HERE
. I highly recommend it.
----
So, how did a post entitled "Snuggles to Remember" go from cute pics to covetousness? I dunno, but that is basically how I write my posts - free handed with no script :)
LOVE